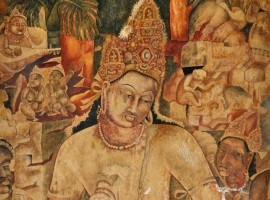 The Way of the Bodhisattva, by Shantideva: part 1 (Bodhicaryavatara)
Teacher: Khenpo Jamyang Tenzin
Year: 2008
Lessons: 22
Language: English
The Bodhicaryavatara by Shantideva is one of the most celebrated works of the Mahayana Buddhism, teaching in detail the bodhisattva way in ten chapters. Beginning with a praise of bodhicitta - the resolve to attain perfect awakening for the benefit of all beings - Shantideva instructs us on how to give birth to this priceless jewel of a mind and how to cultivate it step by step. It covers all the important practices, from generosity, discipline, patience and joyful effort, to the meditative application of bodhicitta and profound insight into the true nature of reality. Shantideva concludes his poem with the most wonderful verses of dedication.
Khenpo Jamyang Tenzin taught this text over the course of two IBA summer programs in 2008 and 2009. In the morning, Khenpo la would teach directly on the text and in the afternoon there would be a short review of the morning class and time for Q&A. On Saturdays, Khenpo la taught only the morning class, and Sunday was a day of rest.
In 2008, Khenpo la taught chapters 1 to 6:
Chapter 1: The benefits of bodhicitta
Chapter 2: Purifying negative deeds
Chapter 3: Generating bodhicitta
Chapter 4: Using conscientiousness
Chapter 5: Guarding awareness
Chapter 6: The practice of patience
The text has been translated several times into English and other European languages. We recommend the following English publications:
Shantideva; Crosby, Kate and Skilton, Andrew (trans.) (1998): The Bodhicaryāvatāra: A Guide to the Buddhist Path to Awakening, Oxford (from the Sanskrit).
Shantideva; Padmakara Translation Group (2006): The Way of the Bodhisattva (revised ed.), Shambhala (from the Tibetan).
Shantideva; Batchelor, Stephen (trans.) (1992), A Guide to the Bodhisattva's Way of Life (6th revised ed.), Snow Lion Publications (from the Tibetan).
In addition to these publications, two complete translations are available online for free: